Testimonials
Some testimonials have been edited for length and clarity.
---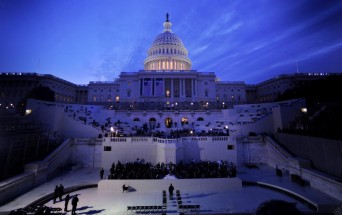 2009 Presidential Inaugural Stands
The work is complete at the US Capitol 2009 Presidential Inauguration Stands Project, and the owner was extremely happy with the finished product and the professional service throughout the project. The Inaugural Stands looked great during the evening on January 20th, as millions of Americans crowded the National Mall and watched on television. The successful completion represents many hours of planning, coordination, supervision, and most importantly hard work. We realize that projects are made a success only by great contractors like you.
We wish to take a minute to thank you and the entire Area Access organization and let you know that Ray and your workers did a very good job on the project. Who would have known your lift would carry the Vice President?
The Christman Company is very appreciative of the hard work and commitment to excellence that was shown by your firm through the entire project, in the face of the challenges and obstacles. We look forward to working with you again soon on another successful team project.
The Christman Company
---
"An outstanding group of professionals"
I want to take a brief moment to commend your firm and all those involved on an outstanding effort at System Planning Corp. This project could not have been a success without your expertise and ability to meet all project milestones. Your firm's quality of work was excellent, and your commitment to the project schedule was unfailing.
It was a great pleasure to work with an outstanding group of professionals – both in the field as well as the office.
On behalf of our superintendent Dan Gonzales, I commend your firm for a job well done! I look forward to our next project together (and I hope it's soon!).
J. Parker, Reston VA
---
"You're always there for us"
The recent installation of the Bruno Hydraulic lift into our new Minivan is making it easy and fun for us to take Alan's motorized scooter with us everywhere he needs or wants it. So many places that had become too difficult are again possible – Great Falls Park, Meadowlark Gardens, the Arboretum, the Canal – and these are just a few of the local spots; the whole country becomes accessible.
We are so grateful for your assistance in helping us transcend Alan's physical limitations. You're always there for us whether we need a ramp, a stair-lift, a collapsible wheelchair, a scooter – or just information and consultation. Everyone at Area Access is always helpful, but Cliff and Phil have been especially patient, attentive, and competent. We thank all of you.
S. Roth
---
"I could not be more pleased"
Just wanted to let you know I could not be more pleased with you and your technicians/installers customer service. I have had many opportunities as of late to deal with numerous contractors.
It is rare to find someone who actually delivers what is promised. When selecting a company, service or product one is lucky to have one of the following:
Promptness. I received a phone call 25 minutes before their arrival.
Product knowledge. Your technichians were able to explain the product, its warranty and product care to its fullest.
Understanding of the customers needs.
Patience to make sure the customer understands the product.
Courteous behavior. I was met with a handshake and their names. The same was applied upon their departure.
Cleanliness. There was no evidence they were here.
Professional attitude. Not to be crude, but they thanked me for the use of my facilities. Much more than that, they were kind to my neighbor with alzheimers, sympathetic to the fact I was less than thrilled with having a stairlift installed.
Overall consideration, from start to finish.
Very nice gentlemen. You and your company should consider them assets to the fullest. I truly could not be more pleased with you, your company and the two young men that represent your company.
T. Quinn
---
"It is always a pleasure to send letters like these"
Our Superintendent, Gary Lienart, has requested we send a letter thanking you for all your hard work at Southside Baptist Church. Your installer did excellent work and was very professional.
It is always a pleasure to send letters like these to employees who take pride in their work and do such a great job, making our job much easier.
Your work performance and work ethic has been a tremendous help n E.T. Gresham's intent to "Achieve Quality" and make our client happy.
We appreciate all your work and efforts and look forward to working again with you soon.
Cindy Taylor-Hudson
Manager, Construction Administration
E.T. Gresham Company, Inc.