INDOOR WHEELCHAIR LIFTS
When it comes to wheelchair lifts, no one has more experience, greater expertise, or a broader product selection than Area Access. We do both residential installations and commercial jobs, with portable and temporary units available for special events. In 2009, we were responsible for one such temporary installation at the U.S. Presidential Inauguration, when we installed the wheelchair lift used by Vice President Cheney.
Symmetry Vertical Platform Lifts
Symmetry Elevating Solutions is the new standard in both elevators and wheelchair lifts. All Symmetry equipment designs are based on decades of experience and feedback by engineers, installers, and end users. Symmetry wheelchair lifts are ADA-compliant and made right here in America.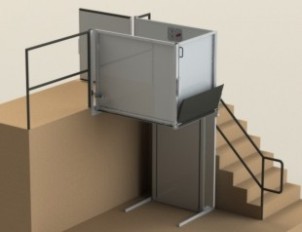 Standard features
750-lb. capacity
Speed: 10 FPM with a 1 HP, 115-volt motor
Lifting Height: up to 168 inches
Steel constructed with electrostatic, powder-coated finish
On-board diagnostics
Constant pressure up/down control switch installed on the platform
Constant pressure, elevator-style, hall call control stations provided at each landing
Optional features
230-volt motor
Remote mounted controller
ADA phone for both indoor and outdoor models
Emergency lights
Key switch to lock platform
Safety features
Nonskid platform surface
Obstruction safety panel under platform (when not installed with a runway enclosure)
Alarm and emergency stop switch
Grab rail
Landing interlocks keep door locked when the lift is on another floor
Upper final limit
---
VPC-UL UNENCLOSED
The basic Symmetry wheelchair lift model handles heights up to 60 inches. This lift is unenclosed, and can be used either inside a building or in an outdoor context. Mounts directly to the floor surface or in a shallow pit.
---
VPC-EL SELF-CONTAINED ENCLOSED
As the name suggests, this unit is completely self-contained and requires no pre-existing shaft or hoistway. The enclosure can be ordered with an "open" look, featuring a 42 inch barrier around the top landing, or fully enclosed with regular doors, roof, and ventilation system. The latter configuration is most suitable for outdoor installations. The VPC-EL comes with doors and/or gates built into its walls.
---
VPC-SL ENCLOSED
The VPC-SL is designed to be enclosed in a pre-existing hoistway or shaft. The drive tower and lift platform are installed inside this shaft. Each landing is equipped with a gate or door, integral to operation of the unit. At the top landing, the shaft can go up all the way to the ceiling, or may be truncated at as little as 42 inches. This shorter design can be used to create an installation that feels more "open" at the top landing.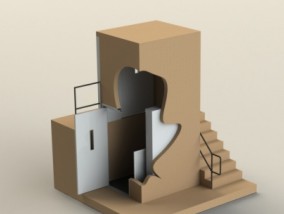 ---
Savaria Wheelchair Lifts
In business for over 30 years, Savaria designs and builds accessibility equipment in multiple categories, including their powerful and flexible line of wheelchair lifts.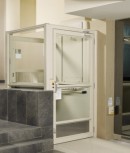 V-1504
Savaria's V-1504 vertical platform lift is great for both commercial buildings and residential installations where a robust solution is needed. With an integrated lift tower containing all its machinery – and eliminating the need for a separate machine room – the V-1504 is suitable for both indoor and outdoor applications. The unit is powered by a smooth hydraulic system and includes important safety features like obstruction sensors, an on-car emergency stop button, and a manual lowering device. Lifts 750 pounds at 20 FPM up to 14′. 36 month warranty.