Home Elevators
Area Access – Your Experienced Partner
Home elevators are simple to operate, but not to install. This trade takes much experience to master, and that's why it is so vitally important, when choosing a home elevator, to choose the right contractor. Area Access has been doing home elevators in the Mid-Atlantic region for a very long time. Our clients have included names like Chris Cooley of the of the Redskins and Washington Capitals owner Ted Leonsis. But you don't have to be famous to get the best service from Area Access, because we only know one way to do any job for anyone – and that's simply to do it right.
Every Symmetry home elevator is the result of many years' experience by engineers, installers, and end users in the elevating industry. With made-in-USA quality, great features, and affordable value for even the most economy-oriented customer, Symmetry Elevating Solutions is everything a residential elevator should be. Symmetry elevators are aesthetic in appearance, quiet to operate, light on energy usage for a low environmental footprint, and most importantly, fully equipped with all standard safety features. With numerous options, a Symmetry elevator can be plain and practical, or provide an experience of unsurpassed luxury.
Symmetry Elevating Solutions
STANDARD FEATURES
Up to six stops
Two drive system options available:

In-line geared traction (no need for a machine room)
Roped hydraulic system (with compact machine room)

Cab sizes from 12 to 18 square feet – big enough to haul a piece of furniture or a few friends
7′ interior height with 8′ overhead is standard (8′ interior) height with 9′ overhead is optional at no charge)
Automatic cab lighting
950 pound capacity
Car Operating Panel with push-button operation and LED floor position indicator
Hall call stations with call button and car arrival indicator
Three year limited parts warranty
---
Pneumatic Vacuum Elevators
A vacuum elevator is the ultimate in home elevator luxury and functionality. Vacuum elevators are quiet, smooth-riding, and stylish, running in a transparent polycarbonate tube with aluminum framing. No pit, hoistway, or machine room is required. The cabin is lit with LED and has a built-in ventilation fan. Each installation can have up to four stops covering a total of up to 35 ft, with through-floor or balcony-mount landings.
Perhaps most importantly, a vacuum elevator features the ultimate free-fall protection: Barring some catastrophic damage to the tube, free-fall is physically limited by the pressurized air inside. There is also a mechanical emergency safety brake system. All PVE units are ASME 17.7 certified, and carry a 1 year warranty.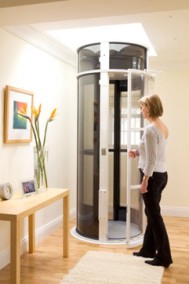 PVE30
30'/min travelling speed
Outside diameter: 30″
Inside cabin diameter: 20.5″
Inside cabin height: 79″
Entrance width: 20.5″
Unit weight: 560 lbs for 9′ ceiling
Power Supply: 25 AMP 220VAC
In-line door openings
PVE37
Self supporting structure
30'/min travelling speed
Outside diameter: 37″
Inside cabin diameter: 32″
Inside cabin height: 77″
Entrance width: 21″
Unit weight: 1,100 lbs for 2 stop w/ 9′ ceiling
Power Supply: 30 AMP 220VAC
In-line and 180° door openings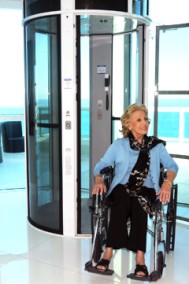 PVE52
Self supporting structure
20'/min travelling speed
Outside diameter: 52.68″
Inside cabin diameter: 43.5″
Inside cabin height: 79″
Entrance width: 32″
Unit weight: 2025 lbs for 2 stop w/ 9′ ceilings
Power Supply: 35 AMP 220VAC
In-line and 180° door openings
---
Inclinator Elevette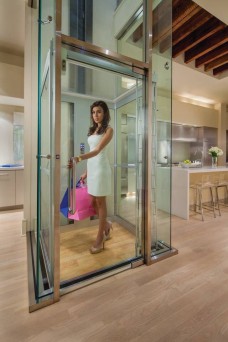 With five standard cab styles, four drive system types, and 26 different door configurations, the Inclinator Elevette is one of the most adaptable elevating solutions in the industry.Inclinator was the first to bring customizable elevators for homes to American
Inclinator was the first to bring customizable elevators for homes to American home owners across the country. Every Inclinator home elevator is skillfully crafted and finished one-at-a-time, making customization easy and worry-free. Elevators for homes are a sound investment, as the increase in your home's value often exceeds the cost of adding a house elevator. Plus, when it's time to sell your home, having a house elevator means you'll sell it to a much larger market!
---
Wessex Home Lift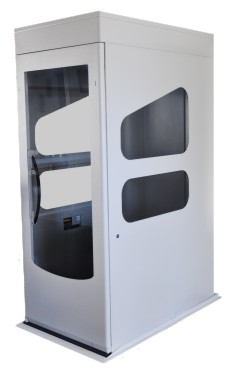 NO HOISTWAY ELEVATOR
Designed for safety, flexibility and independence. The advanced design of the Wessex Home Lift affords great benefits to the user.
Designed for Independence
Illuminated, ergonomically designed internal controls for ease of use. Powered door option for greater independence.
Flexibility of Installation Locations
Free-standing design does not require load bearing wall nor a hoist way. Door opening and internal controls may be either left or right and can be changed to enable relocation of lift. For more features, options, and information visit Wessex.