VEHICLE LIFTS, SCOOTERS, LIFT CHAIRS, POWER CHAIRS & MORE
Helping You Select The Right Solutions For Your Needs
With an ever-growing number of manufacturers putting out a dizzying array of products to get you and your mobility equipment from place to place, choosing the right solution can be intimidating. Area Access will help you find your way, whether you need a scooter, a power chair, or a vehicle lift with which to transport one.
---
Vehicle Lifts
When choosing a vehicle lift, it's important to remember that this isn't a canned, off-the-shelf purchase. Everything depends on the make, model, and configuration of your vehicle as well as your individual needs. Let the experts at Area Access help you find and configure the scooter lift that's right for you.
---
BRUNO VEHICLE LIFTS
In 1984, Bruno helped to create the market for vehicle lifts – devices to lift and stow unoccupied scooters and power chairs for vehicular transportation. To this day, they manufacture a broad array of such devices, with quality and features second to none.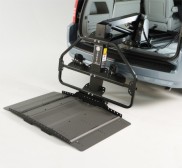 Joey
The Joey conveniently and safely stows your unoccupied scooter or power chair in the back of a minivan or full-sized van. Rather than requiring the use of a docking device and overhead lifting arm, the Joey lift has a platform on which you can park your mobility device from either side. Then, at the touch of a button, it is safely stowed away, with securement belts and an optional barrier system to ensure a safe ride.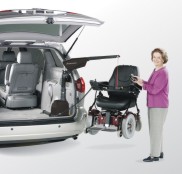 Curb-Sider
Bruno's Curb-Sider is actually the best-selling vehicle lift in the world by the numbers, with over 50,000 units sold since production began. Such popularity is well-earned by this simple and reliable lift. To store your scooter or power chair, you simply connect the docking device and push a button on the hand-held pendant control. The motorized arm does the rest.
---
HARMAR VEHICLE LIFTS
Harmar, a well-known brand in all sorts of accessibility equipment, makes all their products in America. Their line of vehicle lifts includes inside and outside models.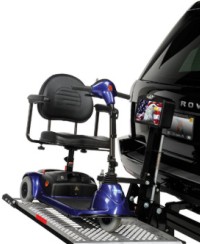 AL100
Rather than storing your scooter inside the vehicle, the Harmar AL100 holds your scooter safely and securely on a platform behind the vehicle. The hold-down arm accommodates virtually any scooter without modifications. The unit effortlessly handles loads up to 350 pounds.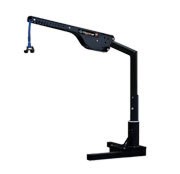 AL215
One of the most popular inside scooter lifts worldwide, the Harmar AL215 works well for transporting smaller power chairs and scooters. Features include an angled post and an adjustable base and boom arm strap. The power lifting arm features manual rotation with lockout. A great choice for light-duty applications.
---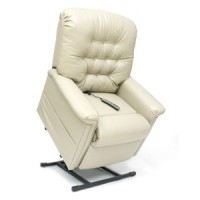 Lift Chairs
PRIDE LIFT CHAIRS
"FDA Class II Medical Device*"
Pride Mobility lift chairs feature easy two-button operation, so that you can smoothly go from fully recumbent to a standing position with minimal physical effort. With a full range of contemporary designs and a large fabric selection to match your decor, Pride chairs make an attractive addition to your furniture. Durability is also a primary concern, with every Pride chair undergoing extensive testing before it leaves the factory. This quality is backed up by a set of comprehensive warranties, including lifetime on the steel lift frame.
*Pride FDA Class II Medical Devices are designed to aid individuals with mobility impairments.
---