LULA – The Affordable Commercial Elevator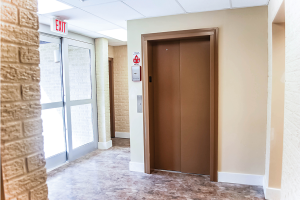 There are a number of reasons why your company may be in the need for an elevator system in your commercial setting. Whether it is to meet ADA requirements or to provide accessibility for your clients and employees, Area Access has an affordable, code-compliant solution – LU/LA Elevators.
Limited Use Limited Application Elevators are designed for ADA compliance when a traditional passenger elevator is not a feasible or an affordable option. These elevators are a low-cost, highly functional alternative when in a low occupancy/ low rise commercial setting. They are ideal for applications up to six stops and 25 feet of travel, or 40 feet with county approval. The LU/LA provides an excellent solution for use in schools, churches, apartment complexes, libraries, small businesses, and more.
---
Cost Comparison

There are many factors to account for when determining the price differences between a Commercial LU/LA and a Commercial Passenger Elevator. Every situation requires a different level of construction and architectural planning. Given that the LU/LA has a smaller required hoistway footprint and the shortest overhead and elevator pit requirements in the industry, it is undeniable that you will save money on construction costs. On top of this, the LU/LA equipment, installation costs, maintenance, and annual Inspection are substantially lower than that of a passenger elevator.
The LU/LA is not perfect or applicable in every situation due to code limitations and use limitations. Simply contact us and we will help you determine if it is the best and acceptable lift for your situation. Sometimes you may even have a cheaper alternative that fits your scenario!
Specifications
42" W x 54" D (Standard)
Power Supply: 230, 1HP, 30 Amp, 6 Hz
Capacity: 1400# (635kg)
Speed: 30FPM (.1 m/s)
Warranty: 36 months
Safety Features
Keyed in-car stop switch
Emergency lighting in cab interior
Emergency lowering with battery backup system
Emergency manual lowering
Instantaneous safety brake system
Automatic bi-directional floor leveling
Slack/broken cable safety brake device
Over speed valve
ETL, UL or CSA certified components
Emergency backup power supply for lights and door operators
Tactile/Braille characters
Buffers
Platform Features
48" W x 54" D (Standard)
42" W x 54" D (Standard)
42" W x 60" D (Optional)
90 degree 51" W x 51" D (Optional)
Optional Features
Custom wood cabs
Stainless steel and colored laminate interior finishing
Car door finishes: White, Ivory, Black, Grey, and Vintage Bronze
Over speed governor
Speed:  40 FPM with variance
Up to 8'0″ (96″) Clear cab height (with additional overhead, wood only)
Fire rated cab gates
25' travel (standard) and 40′ (optional) with variance and derated capacity
3 Phase motor and controller (208, 3PH, 30AMP)
Phase 1 and Phase 2 Fire Service